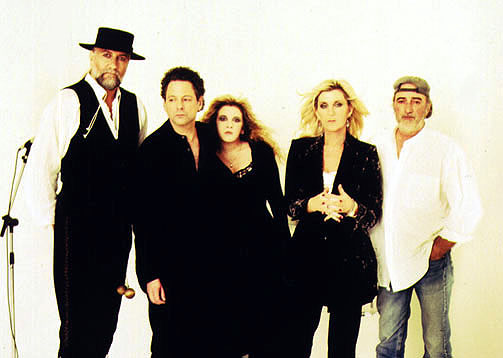 Fleetwood Mac, in concert, a special night indeed!
All present except Christine McVie; Lindsey
Buckingham sang the parts on her songs.
Stevie Nicks, very strong on Gold Dust
Woman and Go Your Own Way.
Lindsey was way out front with some
fine guitar playing, broken strings flying
on a wild rendition of Tusk.
Mick Fleetwood was amazing to watch on drums,
eyes popping out with a gleeful leer at the
audience or band members. He had an acoustic
vest that let him tap out stacatto rhythms
and sounds to accompany Buckingham's fine guitar work.
I think they had a little more energy the last time
I saw them, but that was like, a lifetime ago.
They're still going strong, and it was worth the wait.
The security level had been pushed up to "orange"
the night of the concert, meaning that everyone
got the metal detector treatment before
getting in. I had to toss out a small nail clipper
can opener screwdriver thing that I have had on
my keyring for the past 10 years or so, it was a
Christmas present from the kids, now gone!