Hot Wheels Weekend!

Since this convention was only a few hours from
us (Connecticut), we had to make plans to go. We got
there on Thursday 6/29, and met up with
a few other early birds.

The motel had 4 floors, and people were spread all
over the place. Early on, I found a Service Mdse.
chrome set, which I had been looking for over the
past 2 years! We are as current as Epay on first
editions, at $1 each no less. There are some very
cool Metroliner repaints out. Surprisingly, we
weren't able to locate any for purchase.

The convention did *not* have the real Twinmill on
display! Some mechanical problems were still being
worked out, and Mattel had committed the car for
another show next weekend. This car was supposed
to be ready 4 years ago for the 30th anniversary celebration.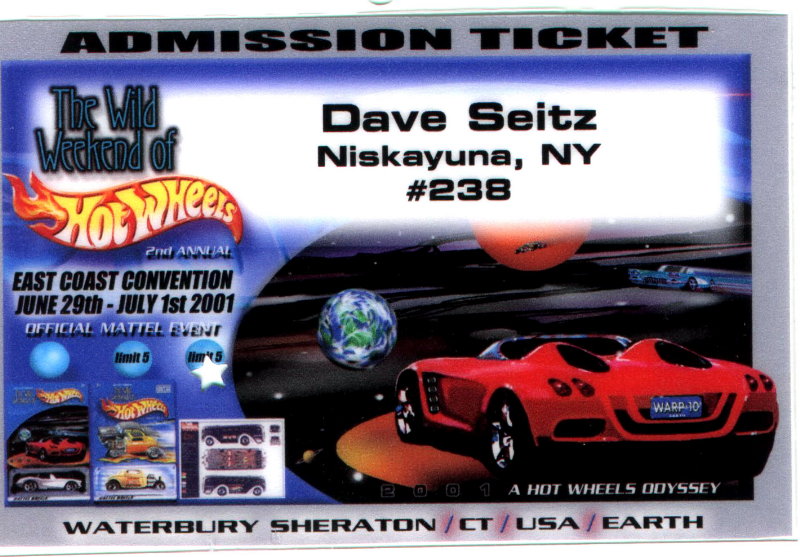 Here is one of the convention cars, a Surfin'
School Bus. Other cars were a '58 Corvette,
and a '32 Ford.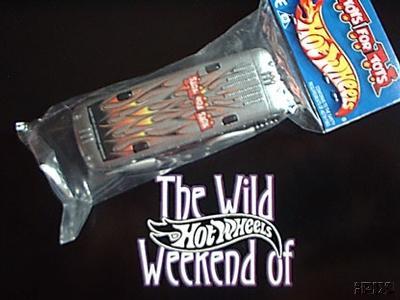 One of the rooms we went into had a bunch of
side loader Beach Bombs. I started telling the
kids about the guy that had bought Chris
Marshall's Beach Bomb, and the guy in the room
says "That's me!" Turned out it was Bruce Pascal,
the actual buyer. He was very happy to break out
the two pink treasures (they were not on display!),
and let us take pictures of them.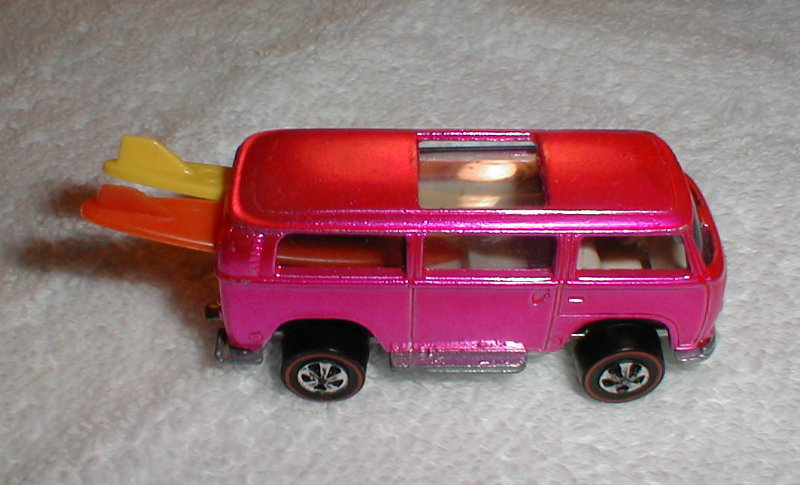 The 1st Beach Bomb is an absolute gem! Paint looks
like it is fresh from the factory, chassis is shiny
bright. Wheels are at least 90%. The rough looking
spot above the step is a reflection in the paint, of
the step! This bus was cherry, I could see how
someone could absolutely have to have it, even if
major bucks ($72,000.00) have to change hands.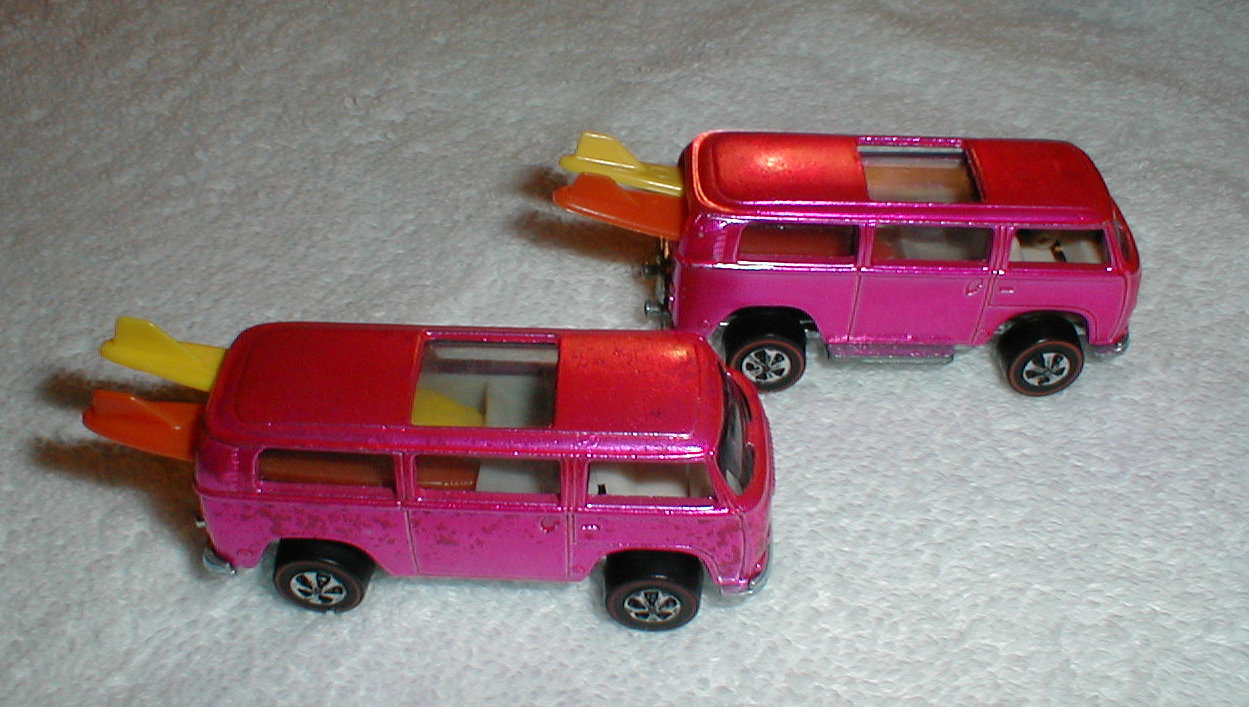 A side by side shows some of the differences in
the two. The 2nd BB that Bruce turned up has some
toning, wheel chrome isn't as good. Glass in both is
excellent. These were brought home by Mattel
engineers, for evaluation. They got a thumbs down
due to the high center of gravity, and went into the
attic for almost 25 years. Given the inexpensive
materials that went into this $1 toy, it's amazing
that they have held up this well!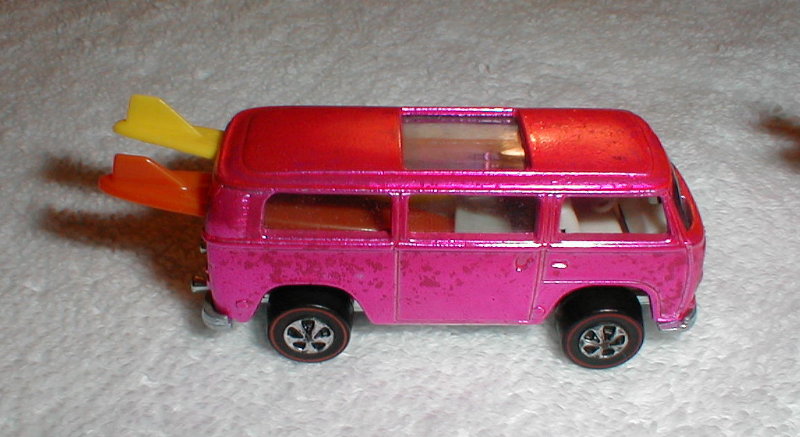 A closeup of #2. Toning is pretty consistant, due
to the paint materials breaking down and/or reacting
with the zinc in the metal.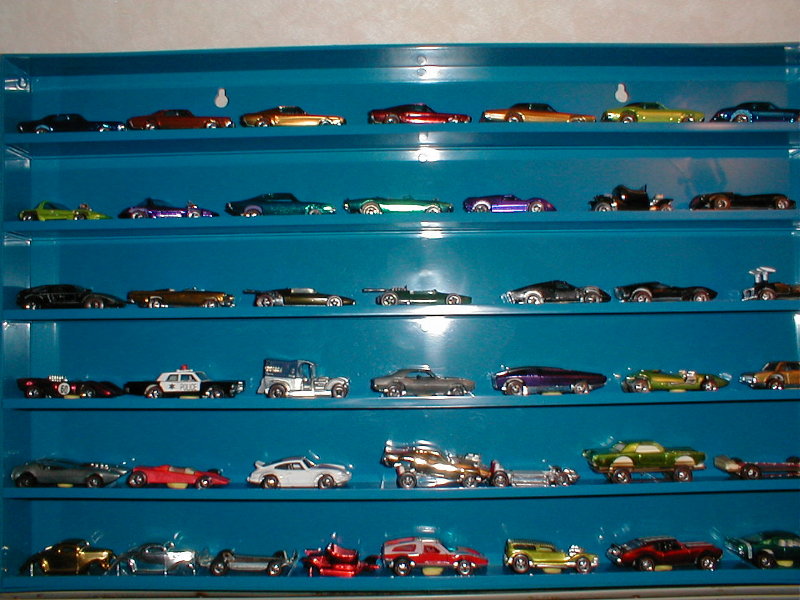 Another part of Bruce's collection is redline
prototypes. This guy goes for the almost impossible!
He had one of the wood mock-ups on display, and
various pre-production cars and chassis. He got
these by contacting Mattel engineers from years
past, and having them go through their attics
for forgotten treasures.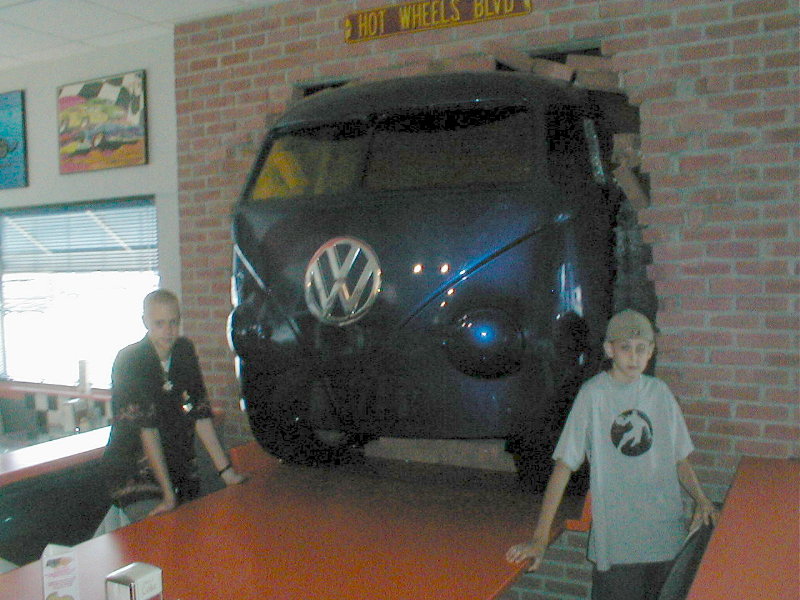 The sponsor of the convention was Randy's Wooster
St. Pizza. www.hottestpizza.com Randy has 2
restaurants, this was the one closest to the motel.
All wall space is covered with HW of every description.
Each table has a HW diorama under the glass, just
loaded with redlines and other HW collectables.
Much of the stuf is one of a kind, just made for the
restaurant, and / or autographed for the owner.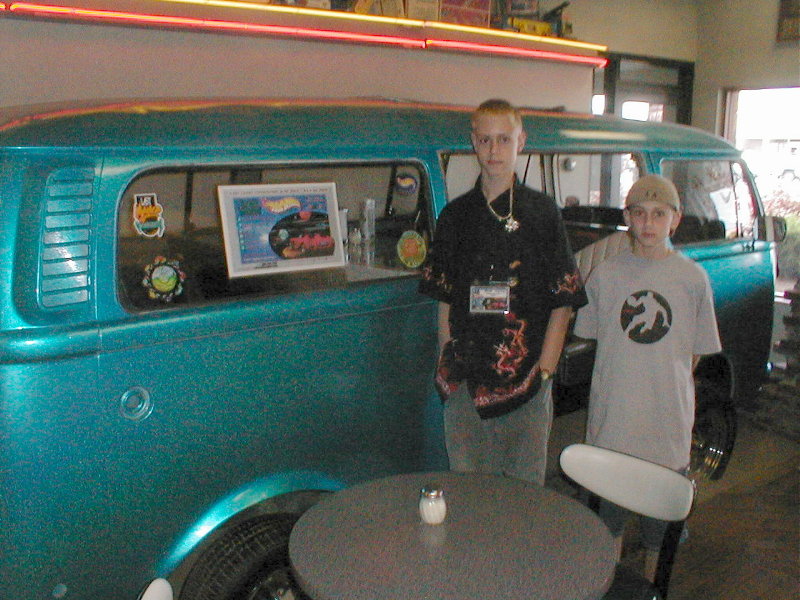 This is a real VW bus, which now serves as a
restaurant booth. A real RL BB, parked in sand,
and with 2 real surf boards out the back!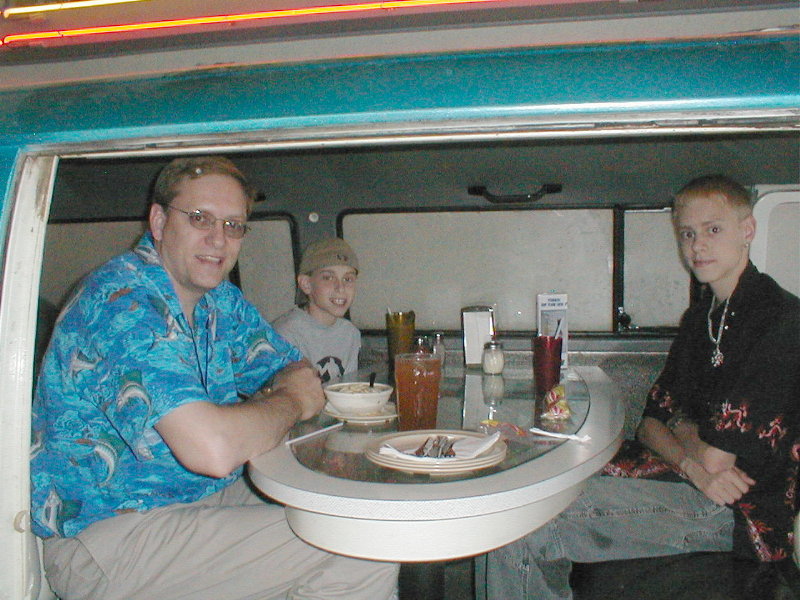 The waitress took this pic. I never really did fit into
the VW Bus very well! Glass table top had
great collection of VW related HW items.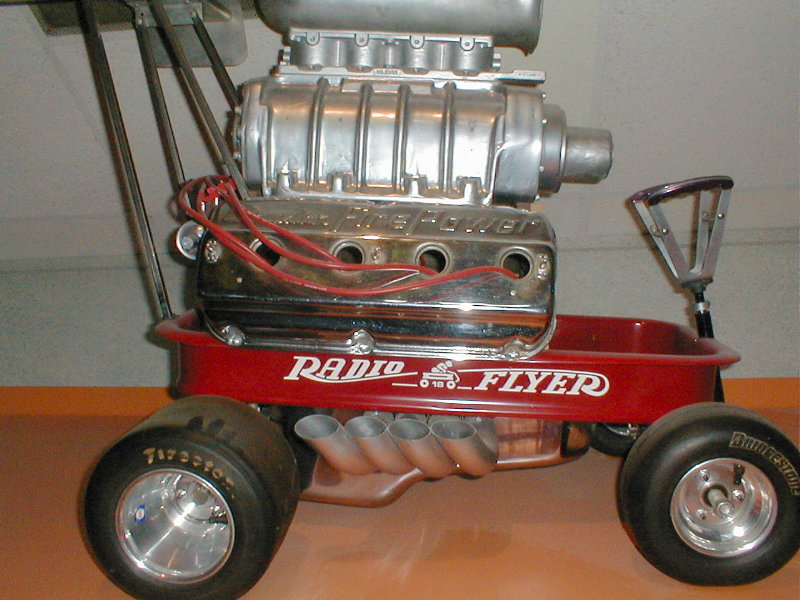 This adds new meaning to the name "Radio Flyer!"
This is on one of the walls at Randy's. There were
other full size cars, including an AC Cobra.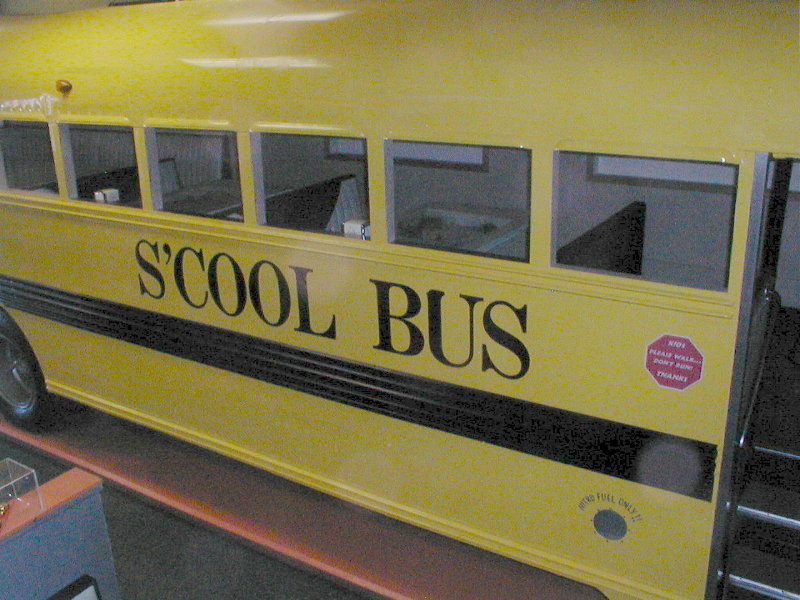 This might have been more our size. A real school
bus, filled with tables and HW related items. No
dual V-8 engines to take up space! We left the HW
convention about 3:00 Friday, in order to head off
to the Summer Nationals in Worcester Mass.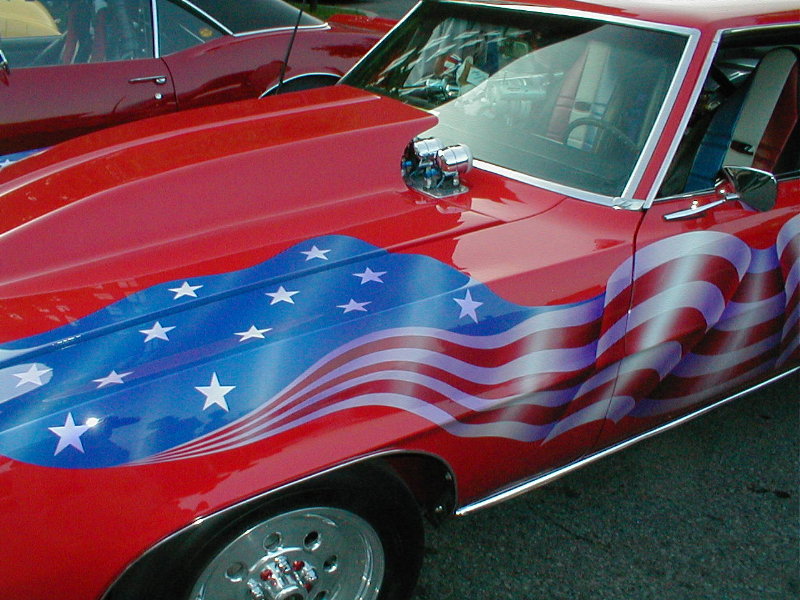 This Camaro had to have the nicest paint of any
car at the show. Flag appeared to be draped over
both sides of the car. This car showed up for the
burnouts on Friday night, and the huge slicks and
no water prevented any major smoke. Or
maybe the owner didn't want to fry his expensive
tires. Lots of other cars put on old tires, and smoked
'em until they blew out! www.summernationals.com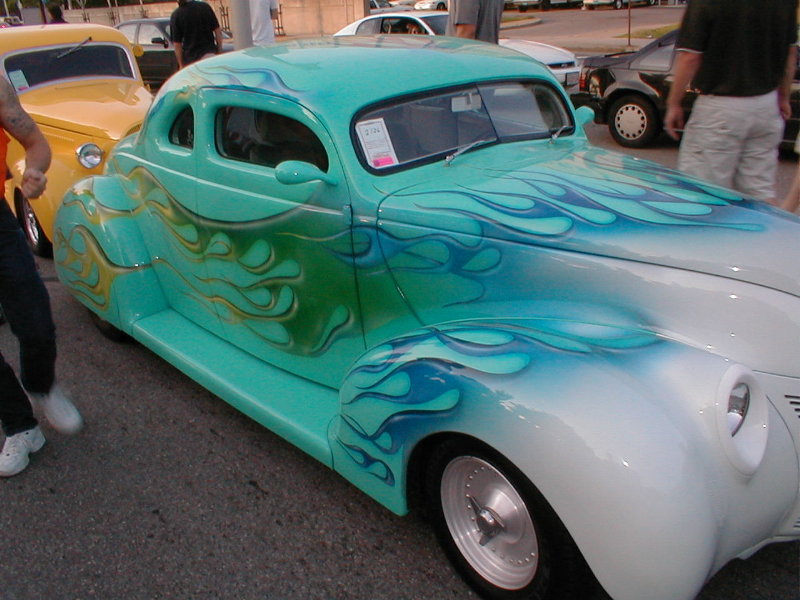 Another awesome paint job. I took mostly video
at the show, and some stills. This was a time for
action and noise! The city police basically looked the
other way for the weekend on car related laws.
Open headers were permitted, as were tires that
happened to be spinning and smoking!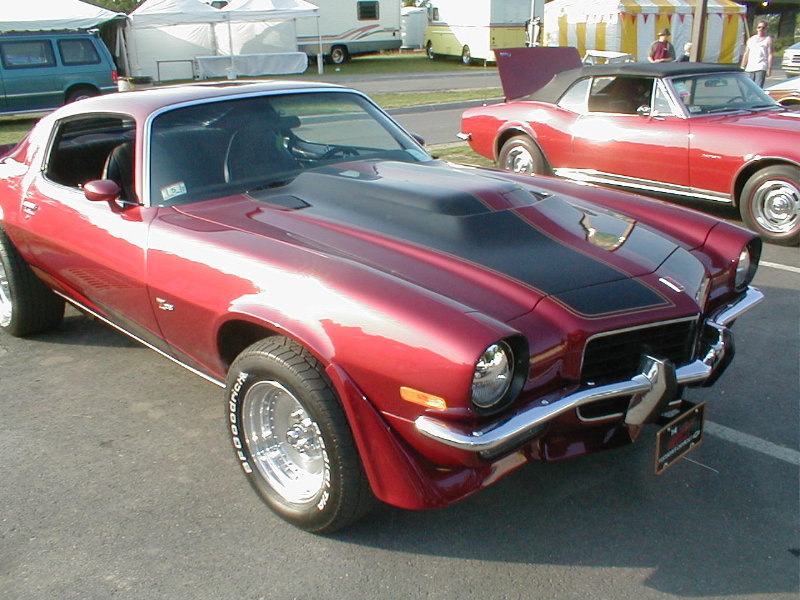 Any 2nd generation Camaro was interesting to us.
This was a very cherry Z-28.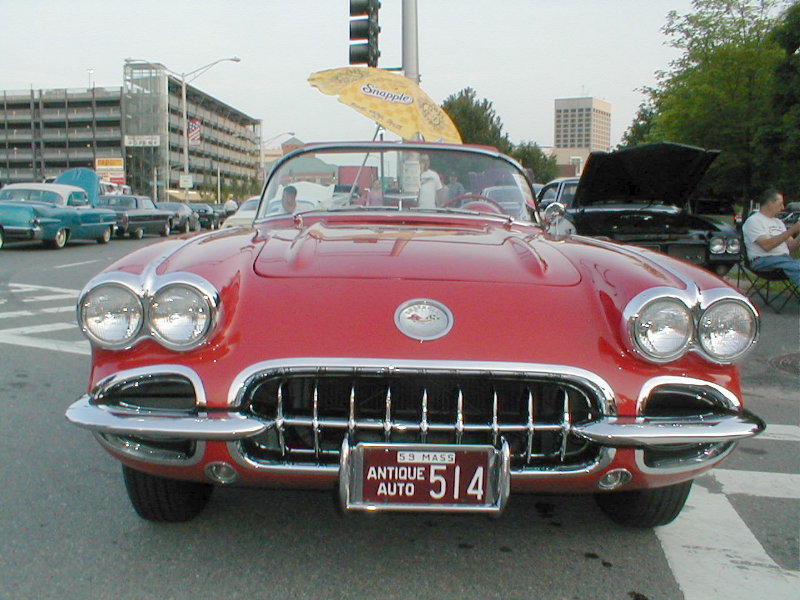 The '58 Corvette is such a classic, I just had to get
this front view. The fiberglass on this was like new,
check out the deep red color. Entire car was mint.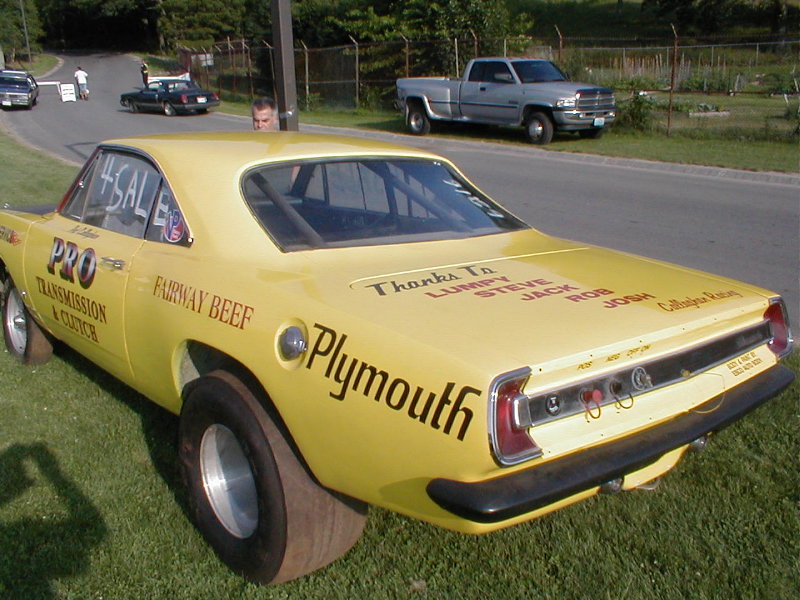 A nice Cuda, one that you won't find on the street
except for this weekend.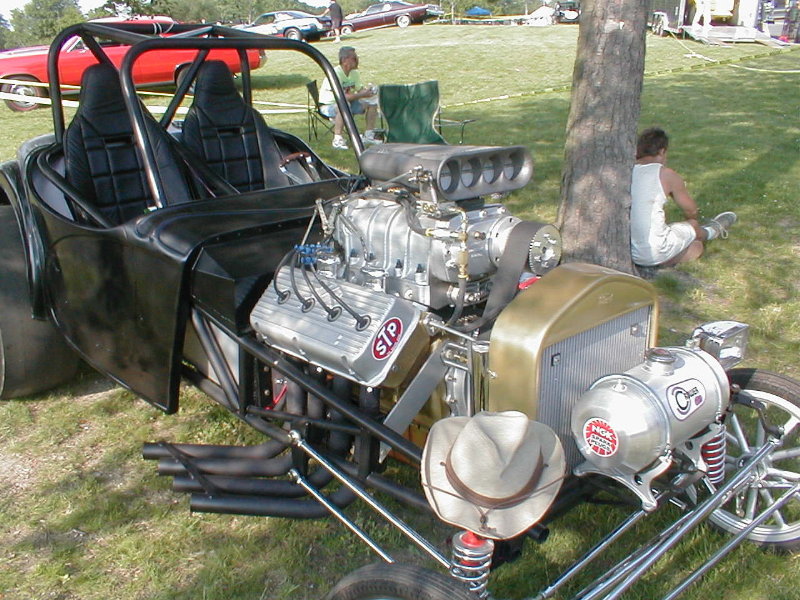 You got it, this car was driving around the city! It
was street legal, had a Maine plate and registration.
Owner (by tree) had about 30 minutes run time on
the 20 gallon tanks.