Syracuse Nationals 2001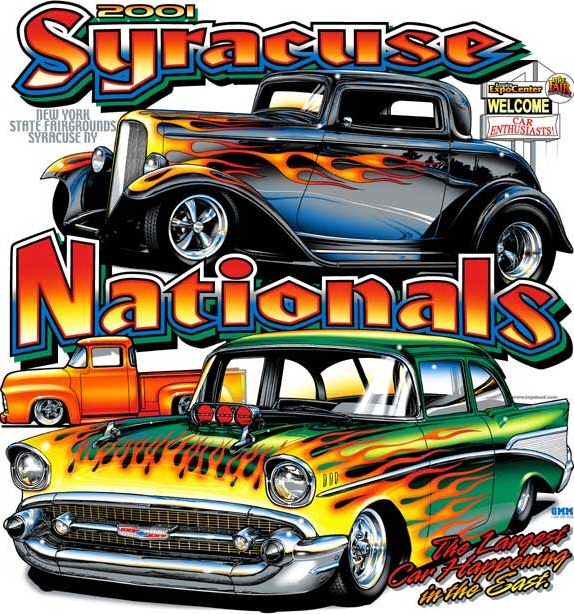 This logo is from the current web site, has all info
on the show for this year. Show this year was held
Thur/19th through Sun/22nd. Grounds, as big as they
are, were limited to 5,000 hot rods. Lots of great
vendors. We went to get ideas from owners and sales
reps on how to fix up the Camaro. Everyone was glad
to offer suggestions. Door prizes included this '32
Ford hi boy coupe, valued at over $50k!
www.syracusenats.com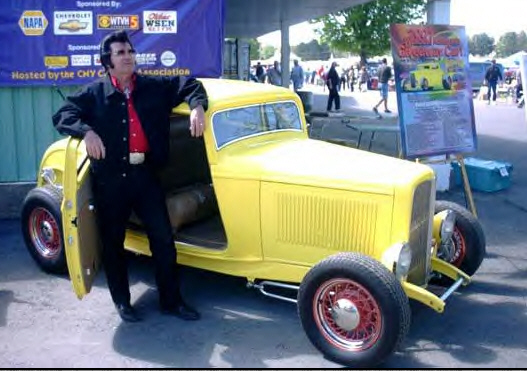 "I love this Ford Coupe...Thank you very much...."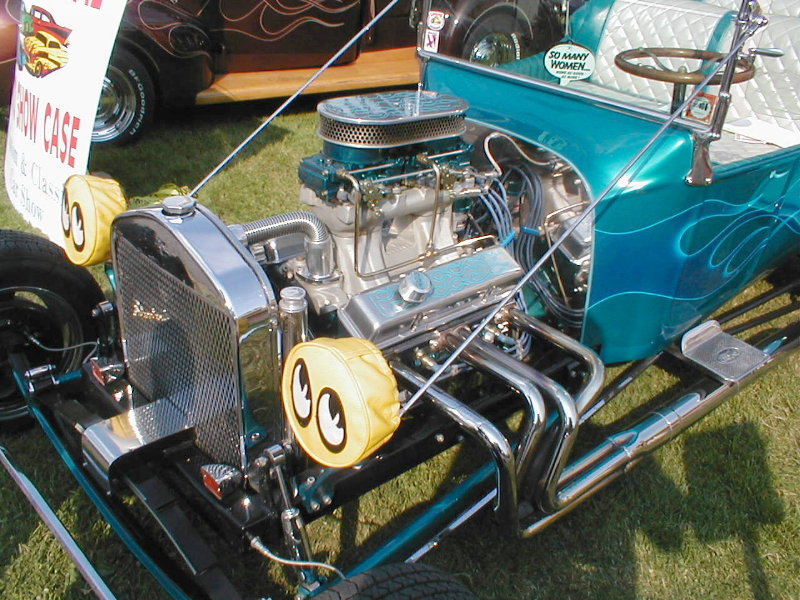 This T-Bucket shows some real nice lines and a
basic simplicity that has made these cars so
popular. Flames start on the valve covers....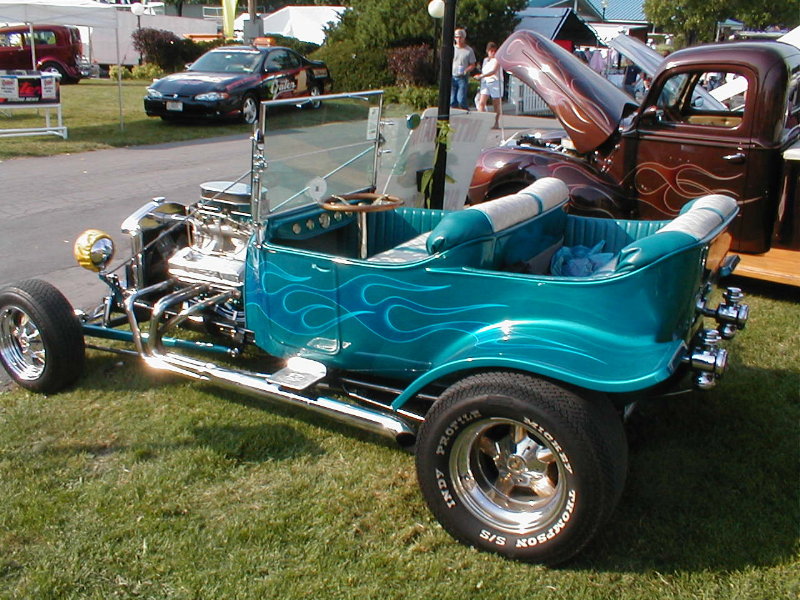 and continue down the side of the car. Molded
in fenders, and a passenger seat, are nice touches
here. There is a door handle, but like most T's,
the doors don't open!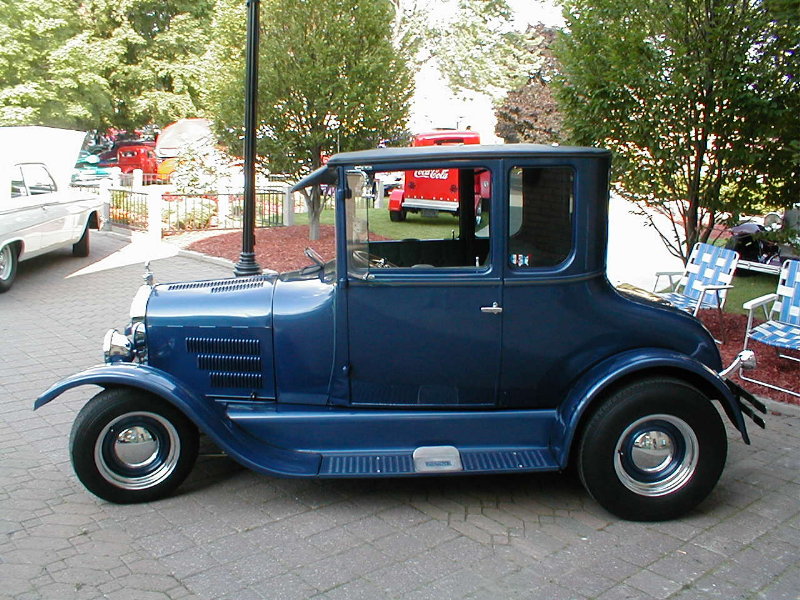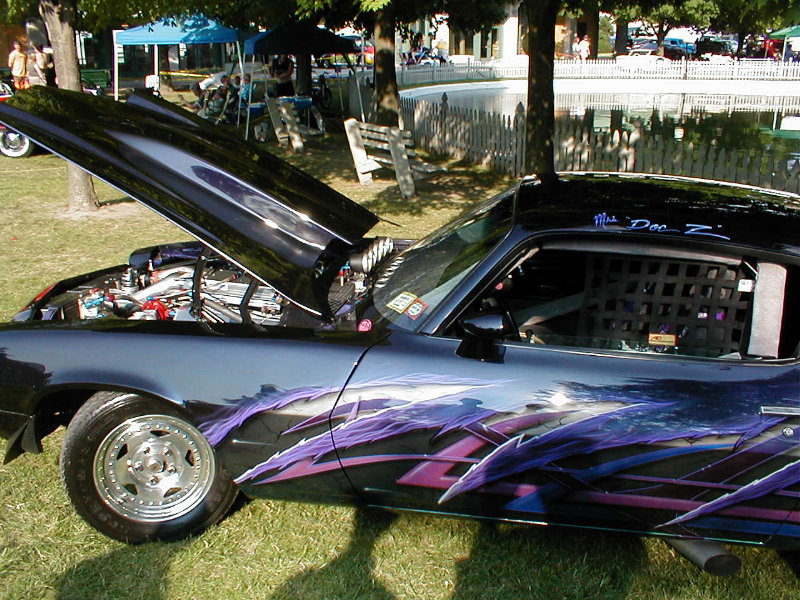 This was the nicest Z-28 at the show.....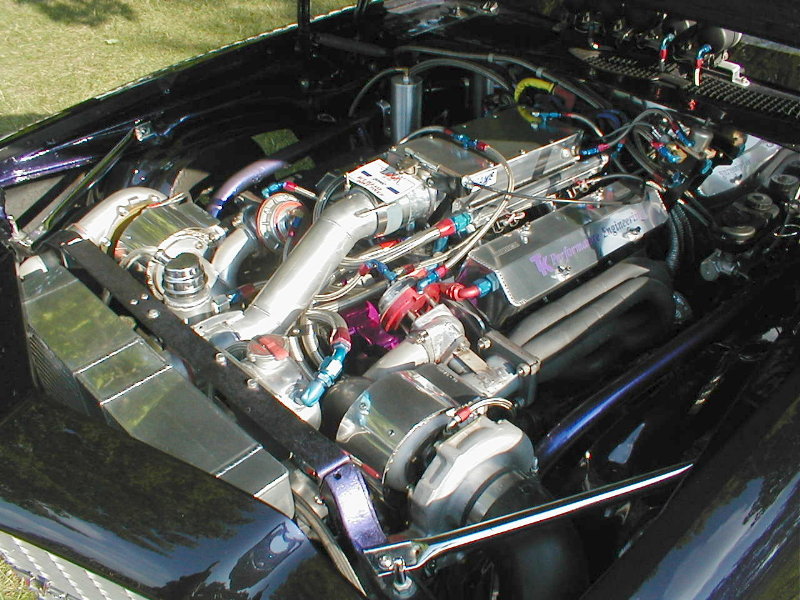 .... with an extreme engine! Dual turbo chargers, and
nitrous! At max boost of 40 psi, engine would put out
over 1,000 hp, for short periods, like an 8 second 1/4
mile run. Large aluminum inter-cooler in the front was
good for another 50+ hp as it cooled the incoming fuel
mixture to the engine.The owner fired up the engine
for us, it was surprisingly quiet, due to the turbo
chargers absorbing the sound of the exhaust.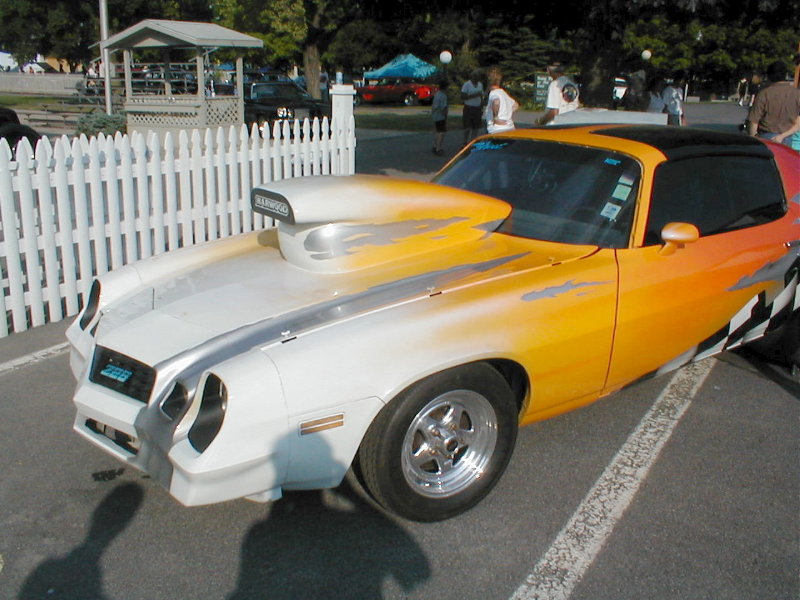 This Z-28 came in on a trailer, strictly a drag car.
The show didn't sponsor any burnouts that we saw,
I think there would have been some interest there.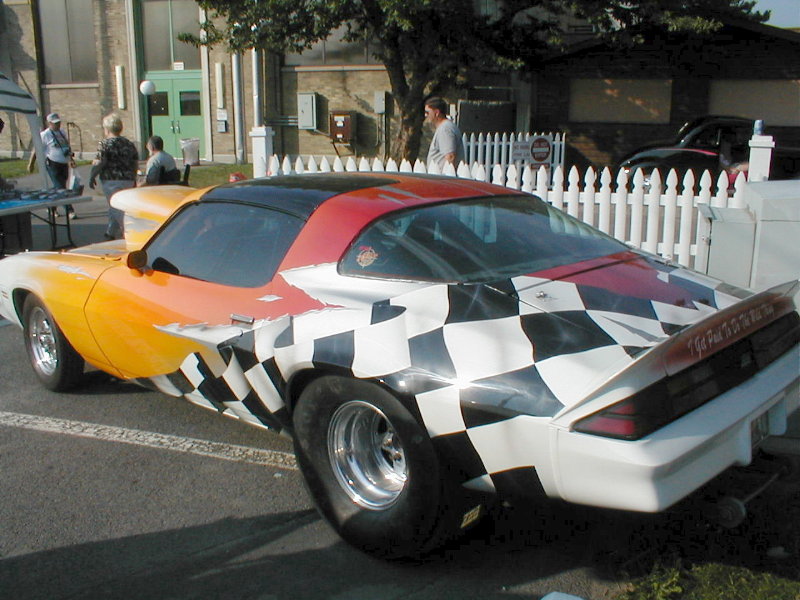 The paint for this Camaro was great, a nice fade from
front to middle to the checkered flag effect out back.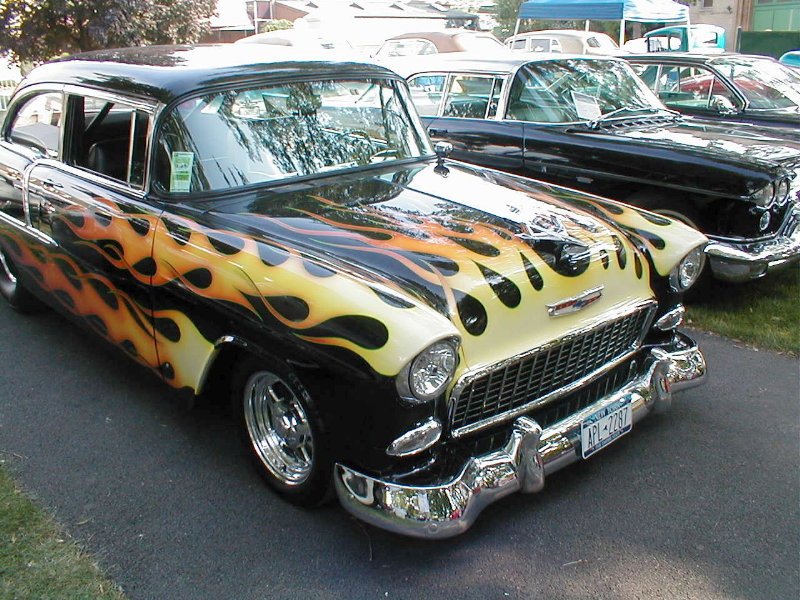 This '55 Chevy would get my vote for "Best of Show!"
The '55 is a classic already, and these excellent
flames finish it off really well.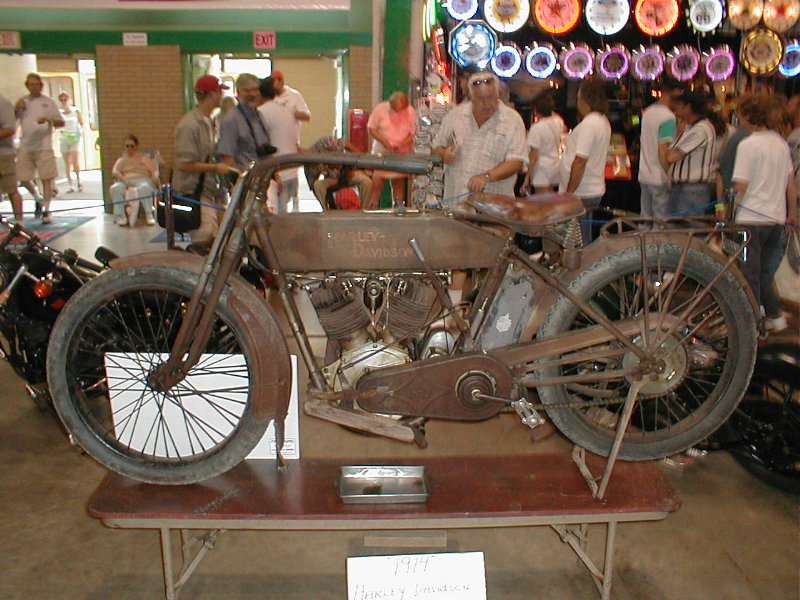 An early Harley Davison, 1914. This is in great
unrestored condition, wouldn't this be nice to
discover at an estate sale.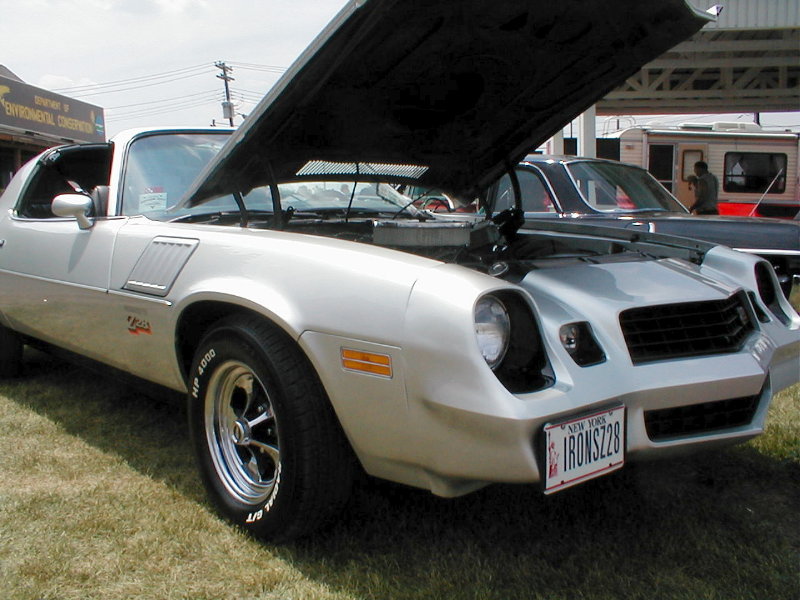 This Z-28 had just had the engine freshened up,
to about 400 hp on the dyno. Owner had the car
for 6 years, and planned on at least
one major improvement each year.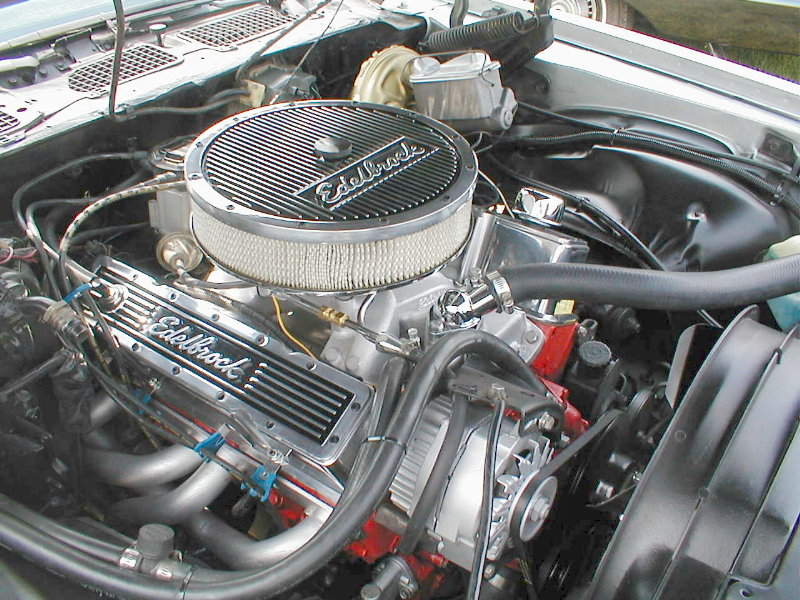 Engine compartment is very close to stock,
only a few dress up items here.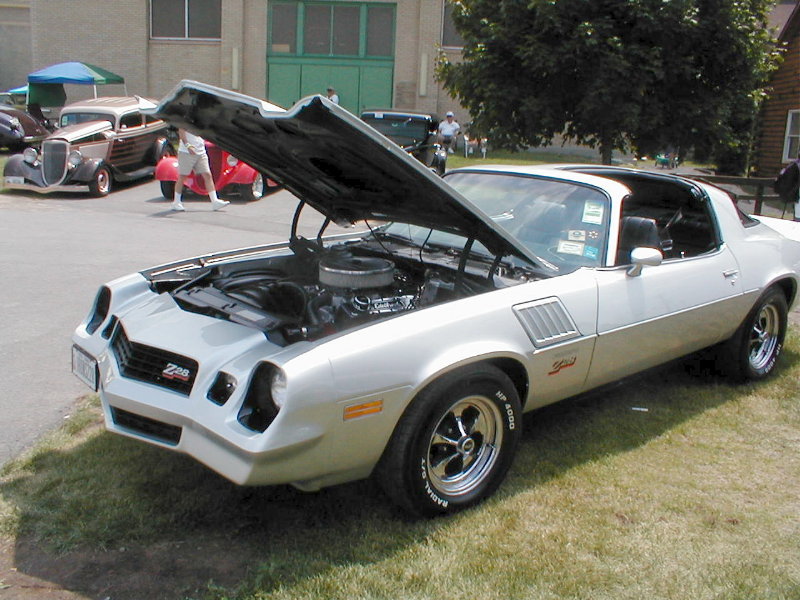 This model Z-28 did not have the ground effects
on the front and sides of the car.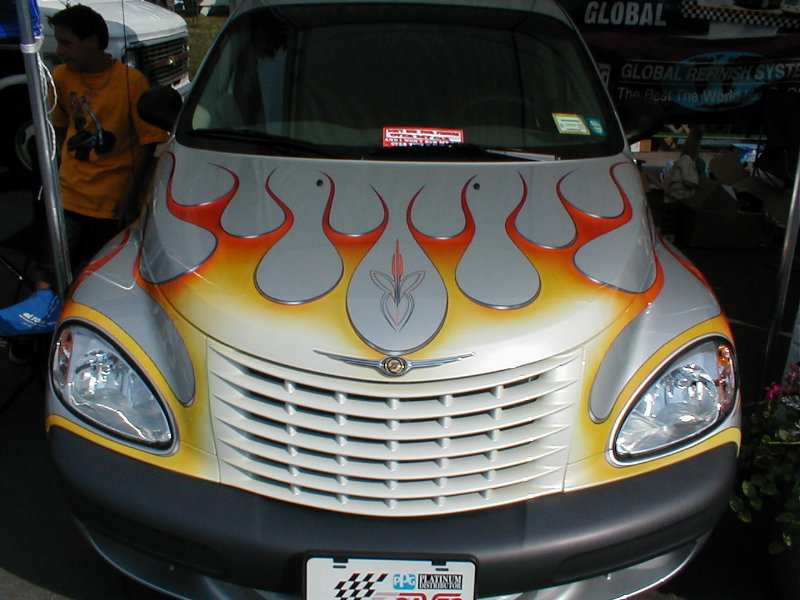 This PT Cruiser was owned by PPG, a big sponsor at the
show. They had a lot of cars there to display the
results possible using their paint products.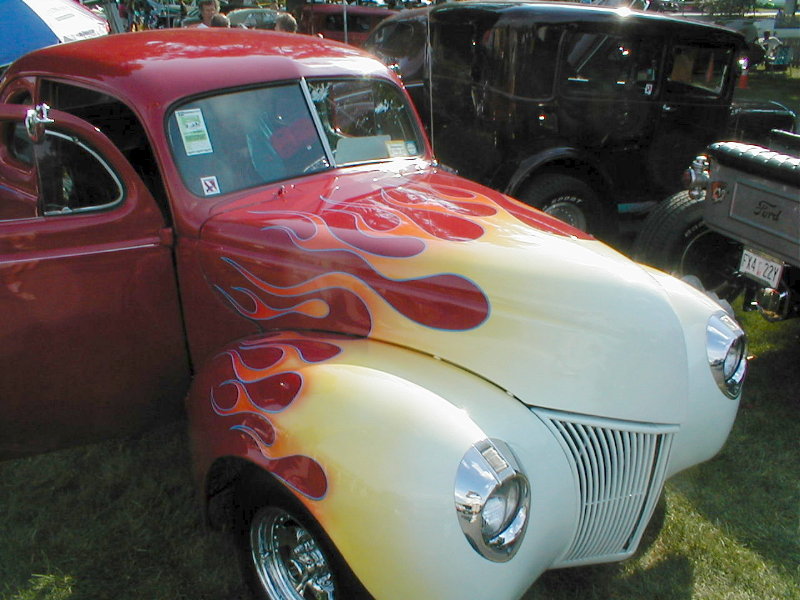 This Willys has a great flame design on the front.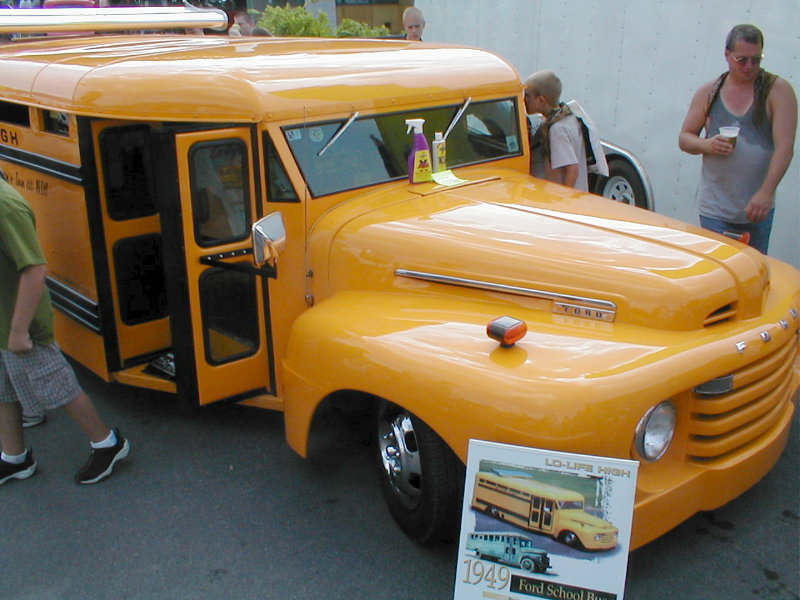 A chopped and channeled school bus? This rod
traveled all over the country to raise money for
a kids charity benefit.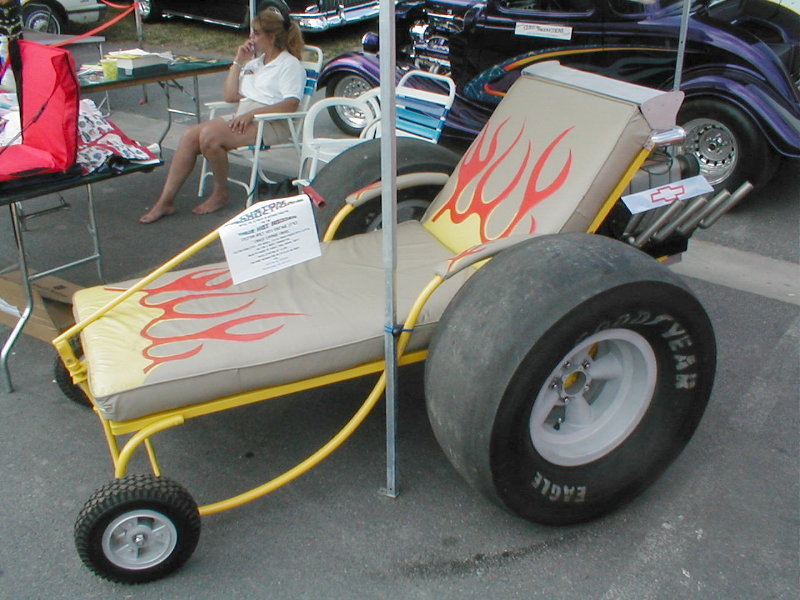 I see one real problem with this hemi-powered
chaise lounge. No cup holders.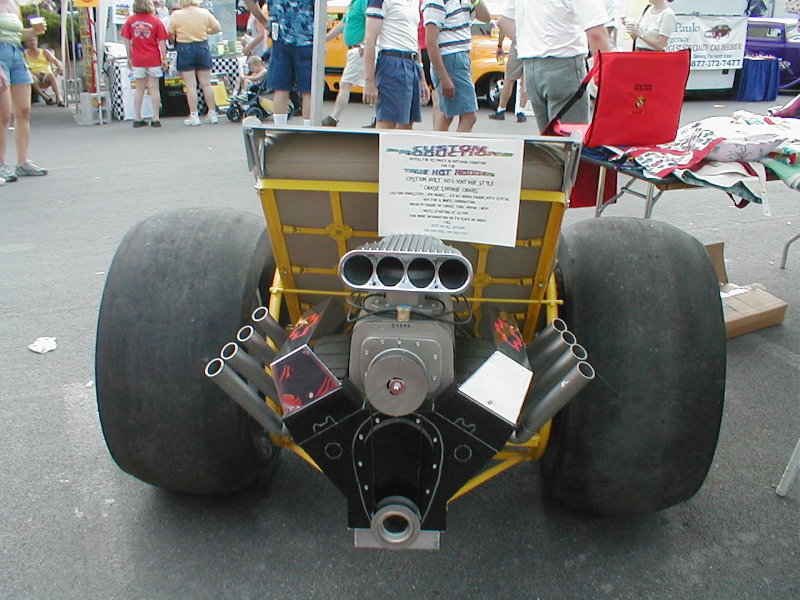 The hemi isn't real, but there is a lawn mower
engine for power between the slicks.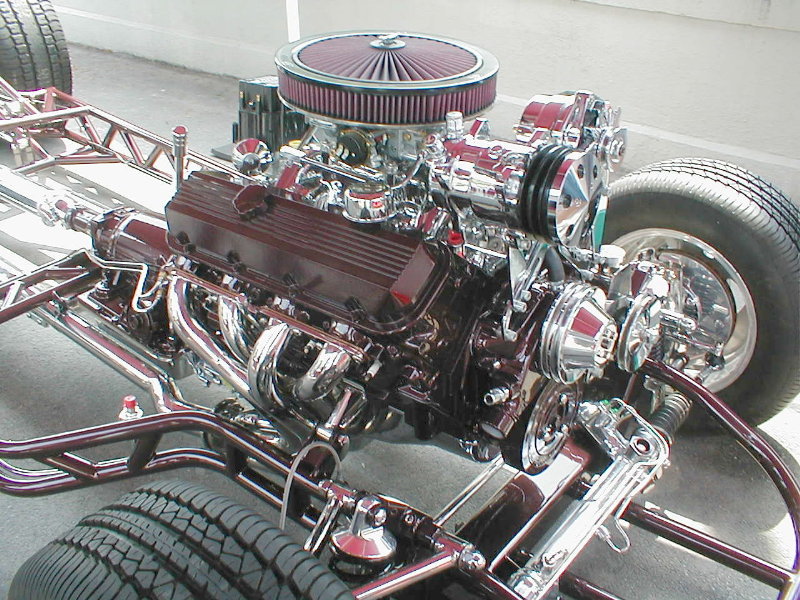 This chassis was ready to go. Add your favorite
body, and you're in business.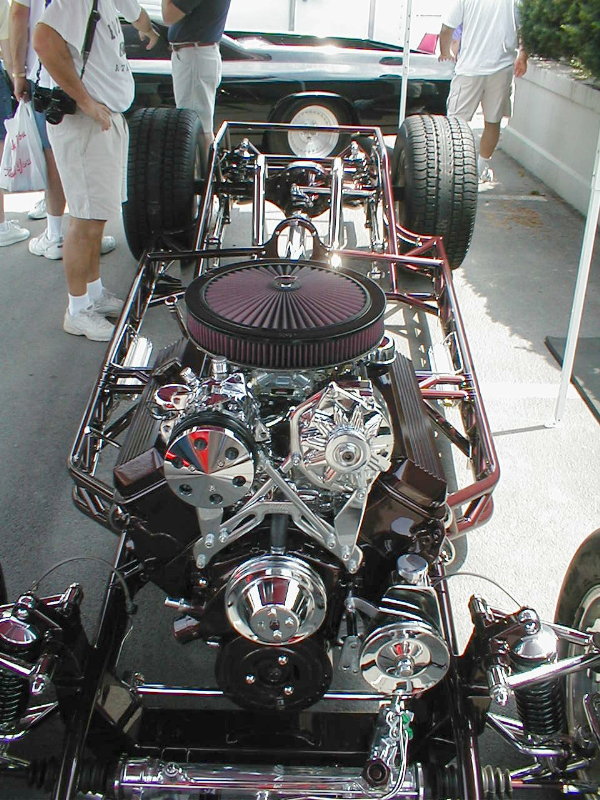 The detail here was amazing. Full length 3" chrome
exhaust, front and rear disc brakes.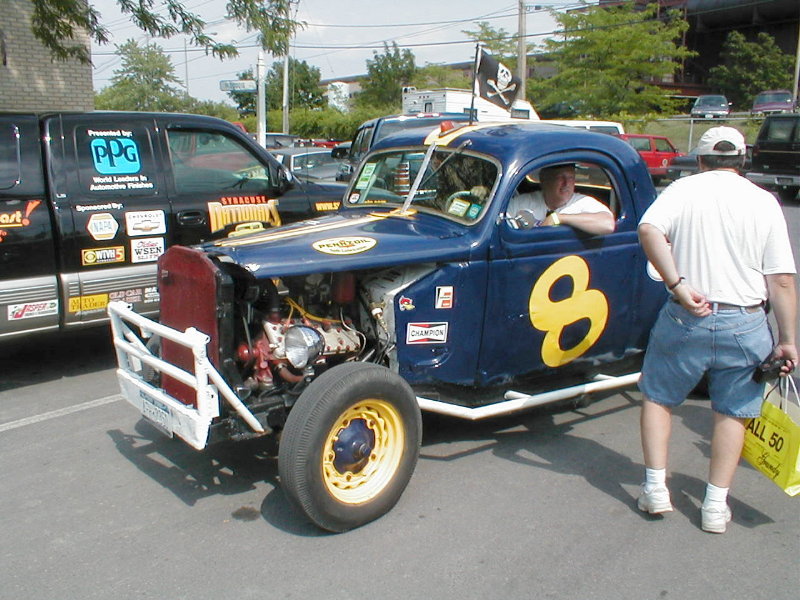 This was a flat track racer from the '50's. The
owner stuffed different amounts of steel wool in
the side pipes for noise control depending on
what he thought the local police might say. Twin
cam flat head 8 was high tech for its time.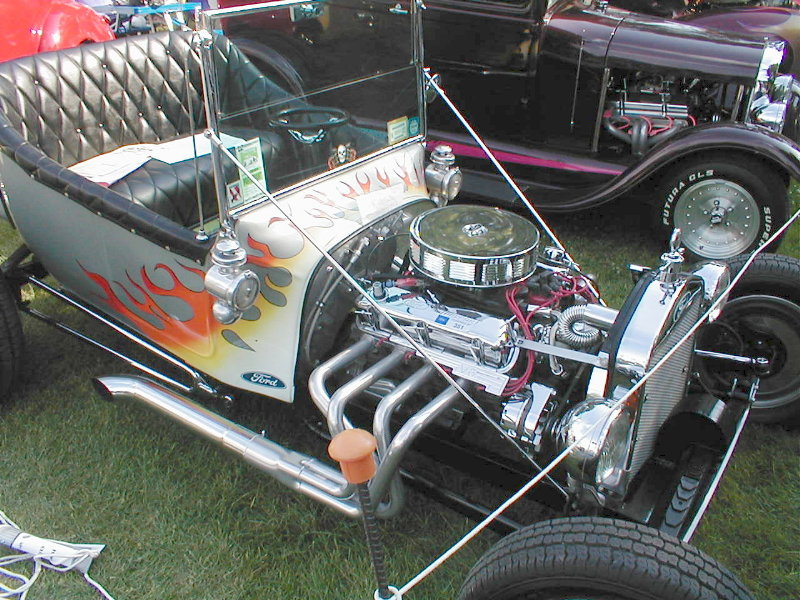 This T was for sale, the owner had done everything
he wanted to with it, time for the next project!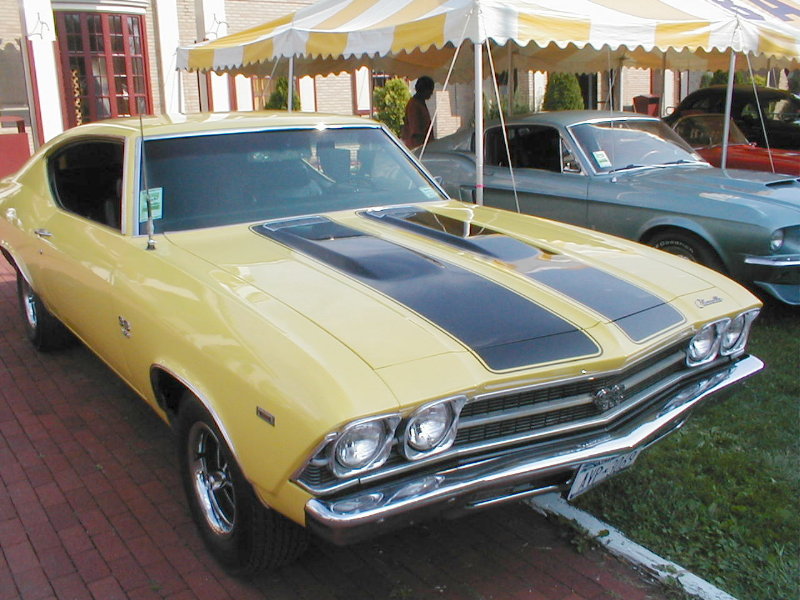 A nice Chevelle, there were a lot of these at the show.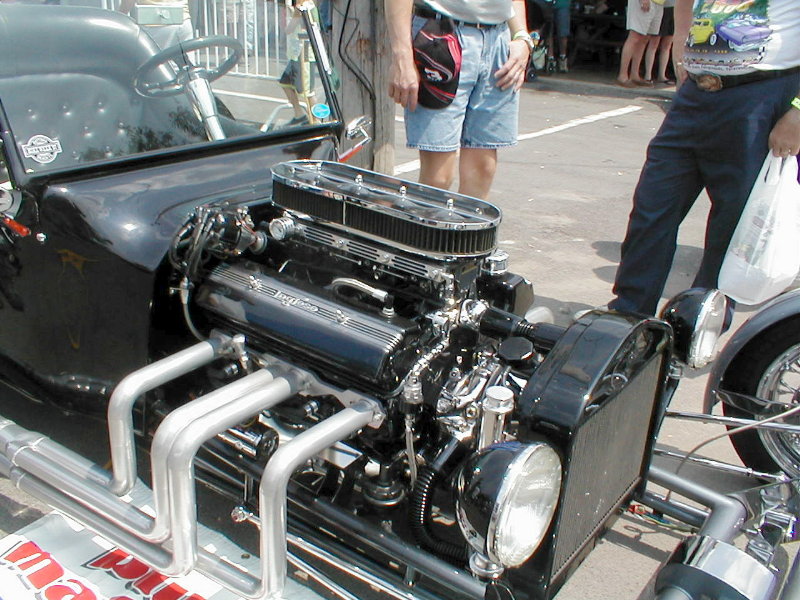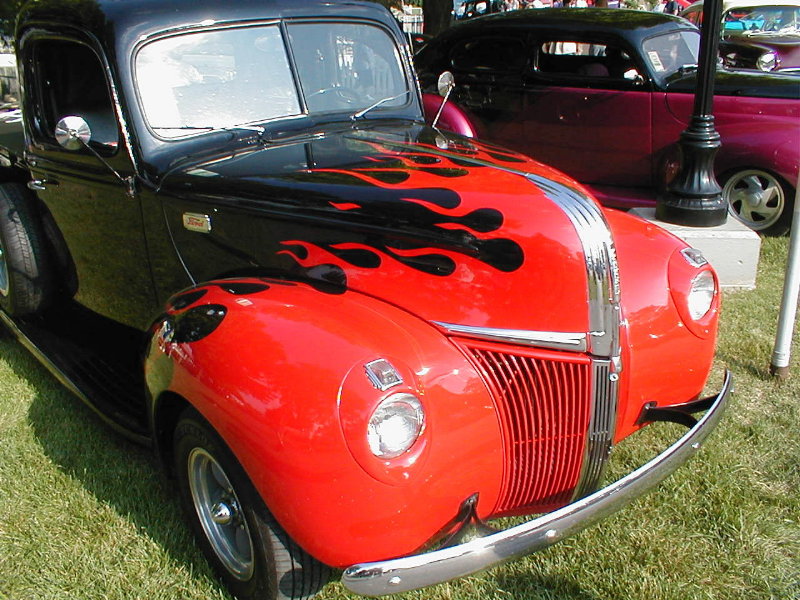 Great flame design on this early Ford truck.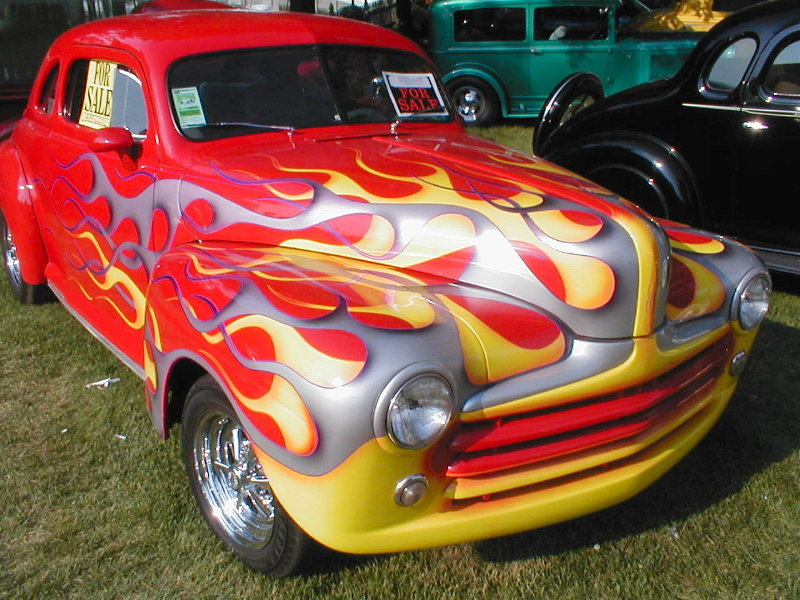 Some people can paint flames real good.
Check out this handy work!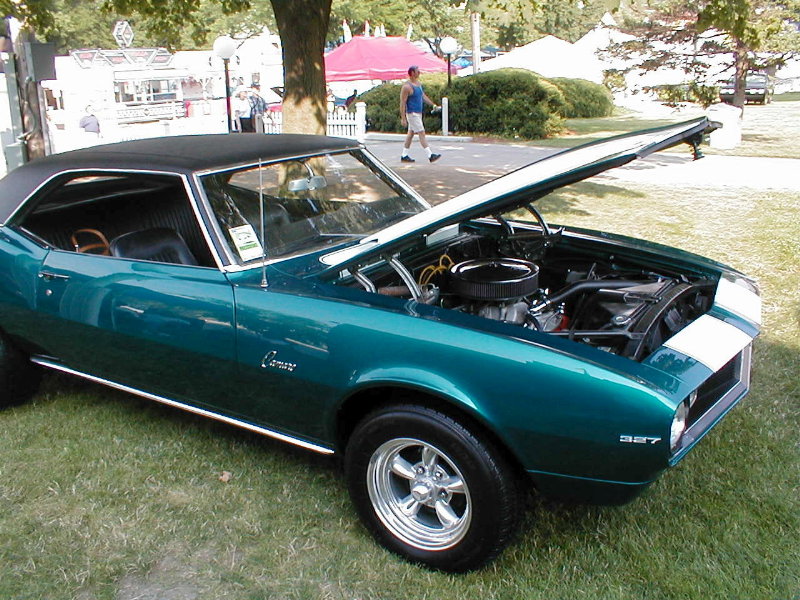 This Camaro had a nice Forest Green paint job,
color was better in person, camera didn't pick
up the color real well for some reason.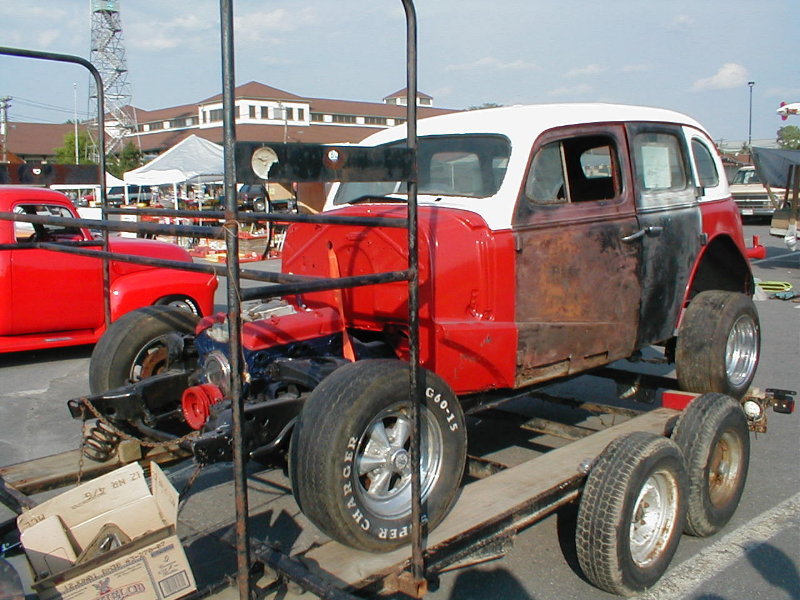 Now this is what you might call a "project car." I
believe this is a '36 Chevrolet. All it needs is some
TLC and $$$ to get it back on the road again.
There were a lot of cars like this for sale at the
show. All restorations have to start somewhere!

Return